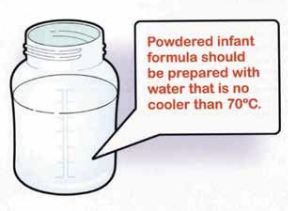 Powdered formulas are not sterile and can contain harmful pathogens (read more).
The 2007 WHO Guidelines for the safe preparation, storage and handling of powdered infant formula recommend a decontamination step which consists in mixing the formula powder with water that is first boiled and then cooled to no less than 70°C. IBFAN–GIFA has raised concerns over the implementation of the Guidelines with the Department of Food Safety at WHO.
IBFAN is now preparing a survey for the Food Safety Department; examples show that labels on powdered formula packages give incomplete and confusing instructions. This is because reconstitution with water at no cooler than 70°C would kill off the added probiotics and therefore invalidate the marketing strategy based on health claims.
IBFAN's aim is to alert parents and caregivers to the risks by providing accurate and objective information. For this reason, we are preparing a compilation of worldwide examples of action by government agencies and of inaction by formula manufacturers to implement the WHO Guidelines. We would appreciate input from readers who can provide examples from their countries.
Read here the full article. For more info read IBFAN's Position statement on IYCF and chemical residues or see the article on Cronobacter Sakazakii infections: Time for Action.