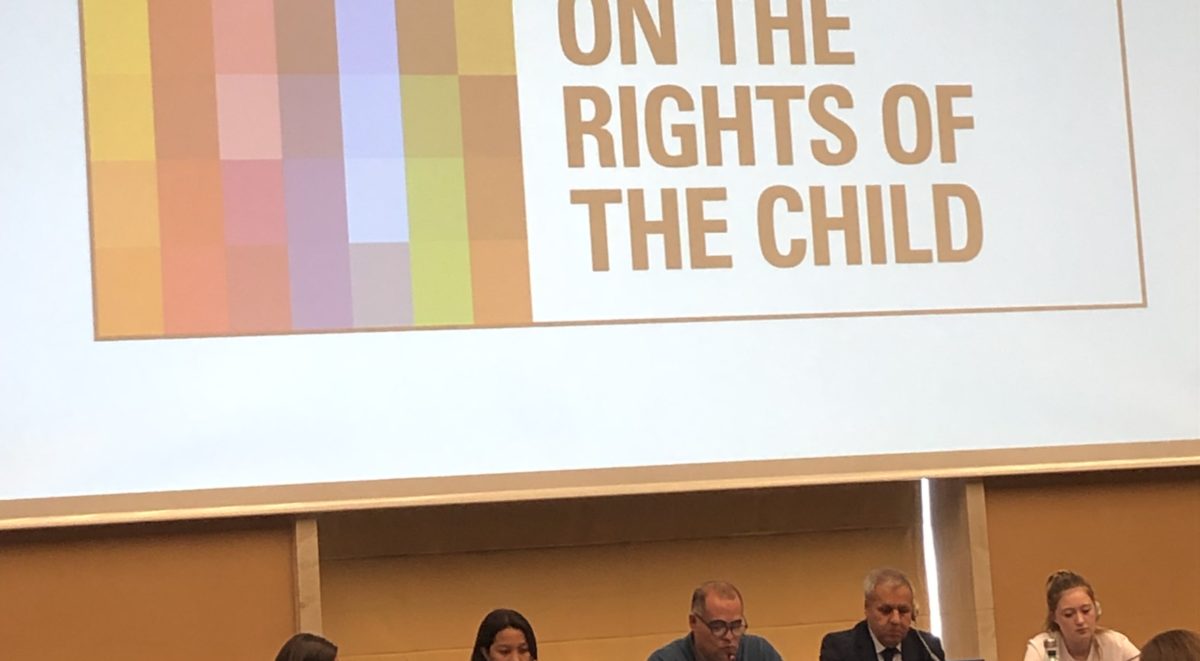 On September 16 2019, the United Nations Committee on the Rights of the Child (CRC) conveyed a special celebratory event "30 years of children's rights: Where we are and where we want to be" at the Palais des Nations in Geneva. The event saw the participation of the CRC members, key civil society organizations as well as child reporters from Switzerland, child advisors from the Philippines, Mexico, Scotland and the United Kingdom as well as a young human rights defender from Canada.
The event was divided in three key sessions. The first one looked into the key moments and achievements of the convention through a "talk show" hosted by two swiss "Child reporters," with the participation of: Paulo David, former Secretary of the CRC and current Chief, Indigenous Peoples and Minorities Section, OHCHR ; Philippe Cori, Deputy Regional Director for Europe and Central Asia, UNICEF; Alex Conte, Executive Director of Child Rights Connect. In this context, Mr. Corri underlined the important role played by the Convention on reducing child mortality and malnutrition. When it comes to stunting for example, he said the convention was the main driver behind the decrease in the condition by more than 100 million. Later, questioned about the role of families in upholding child-rights, Mr. Corri underlined the importance of promoting, protecting and supporting breastfeeding as well as the importance of maternity protection and maternal health measures. Access to healthcare (including breastfeeding counseling) for mothers has a deep impact on children's rights.
In the second part of the event, Jose Angel Reyes, member of the CRC, accompanied by two child advisors launched the child-friendly version of the convention, which is available here.
Lastly, the third part of the event, moderated by Philip Jaffé, member of the CRC, discussed the current state of play and vision for the rights of the child. Four points were discussed: (1) Child participation and children as human rights defenders, discussed by Mikiko Otani, member of the CRC) and the child advisor from the Philippines; (2) Children's rights in relation to the digital environment, presented by Olga Khazhova, member of the CRC and the child advisor from Mexico; (3) Child justice, discussed by Renate Winter, vice-chair of the CRC, Hynd Ayoubi Idrissi, member of the CRC and a child reporter from Switzerland; (4) Climate crisis and the environment, presented by the child advisor from Scotland and Clarence Nelson, member of the CRC.
Besides the successful event, to celebrate the 30th anniversary of the convention, all committee members made specific pledges for the promotion, protection and realization of the rights of the child and invited member states to do the same. So far, 30 countries have made such pledges, which can be found here. Here are some pledges that are directly or indirectly related to infant and young child feeding:
Canada: " Canada is also committed to ensuring accessible health care services through its suite of community-based Healthy Child Development programs (e.g., The Maternal and Child Health program; Fetal Alcohol Spectrum Disorder programming; Canada Prenatal Nutrition Program – First Nations and Inuit Component; and Aboriginal Head Start)"
Azerbaijan: "We pledge to adopt National Child Strategy ensuring full development of children."
Laos : "The government commits to endorse by 2020 and implement by 2025 a plan of action to strengthen the child protection system and make the reduction of multi-dimensional child poverty a part of the 9th National Socio- economic development plan."
Morocco: « Education, santé: droits de nos enfants, les protéger un gage de notre avenir »
Philippines : "Evaluation of the National Early Childhood Care and Development (ECCD) Program"
Sweden: "The Convention on the Rights of the Child will be incorporated into Swedish law."