IYCF Project = Projet ANJE : alimentation du nourrisson et du jeune enfant au Burkina Faso, Gabon et Niger.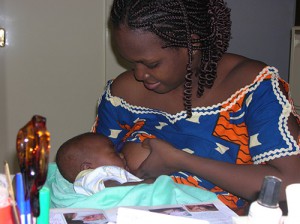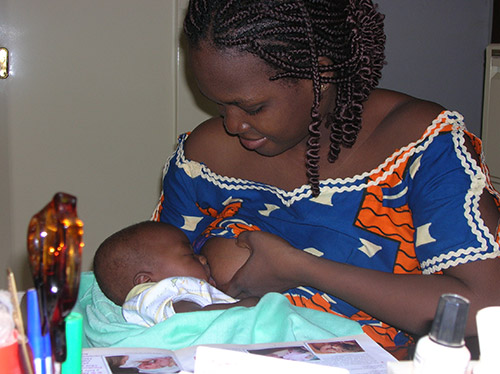 From a human rights perspective, the protection, promotion and support of breastfeeding must be recognised as a key intervention to reduce the still high infant mortality and morbidity in Africa and to improve child health. This project aims to optimise infant and young child feeding practices by improving the information and support system for parents and strengthening the capacities of institutional and community actors. It will include awareness-raising activities for local populations in the project areas as well as advocacy activities at local, national and international levels.
** take on translaton
Le projet a bénéficié à 250 000 femmes en âge de procréer, 66.000 femmes enceintes/allaitantes et autant d'enfants de 0 à 2 ans dans les trois pays concernés. Il a bénéficié également aux 100 agents de santé et 200 agents de santé communautaires qui ont été formés dans lesdits pays. Le Projet a contribué aussi à l'amélioration des possibilités d'atteindre les composantes « santé » des Objectifs du Millénaire pour le Développement (OMD).
L'intervention du projet au Burkina Faso, par l'Association pour la Promotion de l'Alimentation Infantile au Burkina Faso (APAIB), s'est concentrée sur le district sanitaire de Sapouy, un des 63 districts sanitaires du pays. Au Gabon, l'intervention du projet par l'Association Gabonaise pour la Promotion de l'Alimentation Infantile (AGPAI) s'est localisée au niveau du deuxième et troisième arrondissement de Libreville. Au Niger, l'intervention du projet s'est concentrée sur le District Sanitaire II de la Commune urbaine de Niamey. Ce district, qui comprend les arrondissements administratifs de Niamey III et Niamey IV, est constitué en majorité de vingt-six quartiers urbains et péri urbains et de six villages à caractère rural. La localisation ciblée s'est appliquée surtout aux activités de formation et en partie à celles de sensibilisation.
Une partie des activités de sensibilisation et les activités de capitalisation et plaidoyer avaient également une portée plus large, visant un public au-delà de ces zones d'interventions, au niveau national et international. La première phase du projet ANJE a été coordonnée par le bureau régional IBFAN Afrique francophone, à Ouagadougou au Burkina-Faso, en collaboration avec IBFAN-GIFA.
Liens utiles
Burkina Faso
Niger
Gabon
Togo