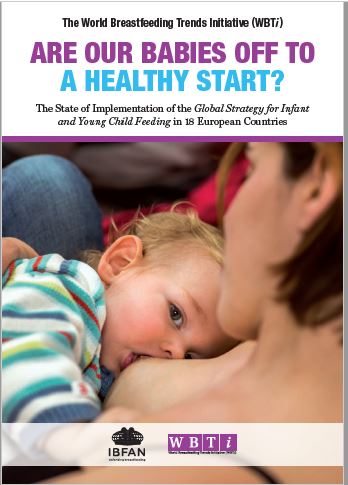 Are our babies off to a healthy start? Shocking gaps in emergency preparedness for Europe's babies, new WBTi World Breastfeeding Trends initiative report highlights. The Covid 19 pandemic has shown how important it is for countries to protect their citizens from illness.
Babies who are breastfed have better health and resistance to infection, and most mothers want to breastfeed. Yet many European mothers stop or reduce breastfeeding in the early weeks and months, and bottle feeding is prevalent, due to inadequate support from health systems and society.
The original assessments were all carried out using the standard procedures of the World Breastfeeding Trends Initiative (WBTi), a tool first developed in 2004 by the International Baby Food Action Network (IBFAN) but only launched in Europe in 2015. It requires collaboration with relevant organisations within a country on assessment scores, gaps identified and recommendations for improvements. The Report highlights good practice, enabling countries to learn from one another.
If governments, other policymakers, hospitals and community services, public health departments, institutions that train health professionals, and others, adopt the report recommendations, it will enable more mothers to initiate and continue breastfeeding, strengthening the health of the population for the future.
The WBTi European Working Group, led by Dr. Irena Zakarija-Grkovic of Croatia, produced the Report and comprises coordinators from European countries which have carried out a WBTi assessment. The production of the report was supported by the Croatian Ministry of Health and UNICEF Croatia.
WBTi Europe Report https://www.worldbreastfeedingtrends.org/resources/publications
Name of Press Contact: Dr. Irena Zakarija-Grković
Email:irena.zakarija-grkovic@mefst.hr