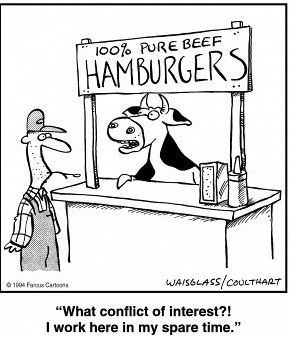 In recent years, the commercialisation of infant feeding has impacted on professional practice through the development of sponsorship by the Baby Feeding Industry of medical conferences and meetings, along with gifts to health workers.
The International Society for Social Paediatrics and Child Health (ISSOP), in order to address this serious concern, issued a statement calling for :
the ending of all sponsorship of paediatric educational meetings by the Baby Feeding Industry as well as all other forms of marketing through the health service (including marketing through journals, sponsored courses, sponsored research, booklets and leaflets given out at discharge or paediatric clinics). Only such strong action can create a climate of honesty and transparency in relation to infant and young child feeding, with a recognition of the critical importance of breastfeeding and the significant risks of bottlefeeding globally.
the discouragement by paediatric societies of the funding of individual paediatricians by the Baby Feeding Industry to attend medical meetings, to receive hospitality, or to accept gifts of any nature. To do so creates a conflict of interest and casts a shadow on the reputation of paediatricians.
the development of sponsorship policies and in the education of paediatricians on the management of breastfeeding and risks of bottle feeding.