Update Dec 11, 2020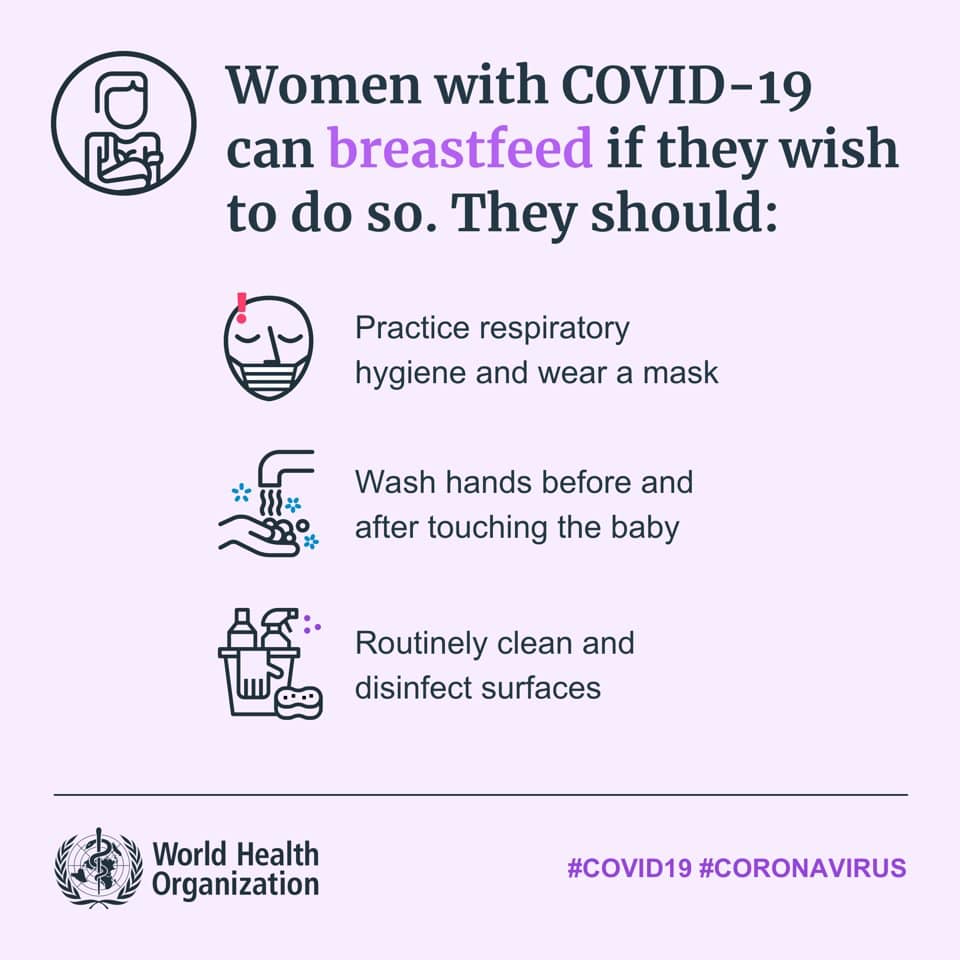 Practical support for mothers and fathers in Geneva

The leaflet in french Panorama du réseau de soutien en Région genevoise et France voisine (2019) shows where you can find breastfeeding support in Geneva. The information hereafter is regularly updated. French page see here
COVID-19 and Breastfeeding
Last update : September 3, 2020
For Health Care Providers see here
For parents
Currently, data, although limited, do not show a risk of transmission of the active SARS-CoV-2 virus through breastfeeding.
Maternal infection with Covid-19 is not a contraindication to breastfeeding
Breastfeeding is possible and encouraged because of its benefits for the health of mother and child.
These are the recommendations of many international and national experts (WHO, UNICEF, CDC, SSP, FOPH/Swissnoso/PIGS, SGGG).
In English
En español
Auf deutsch
SGGG Schweizerische Gesellschaft für Gynäkologie und Geburtshilfe (14 avril 2020 Online Dokument)
Helpful practical information on breastfeeding
La Leche League
LLL organizes free mother-to-mother meetings. Please check the Swiss website www.lalecheleague.ch and chose the language for the meeting you wish to attend.
LLL Suisse romande FB page you find meetings in English and Spanish https://www.facebook.com/LLLSuisseRomande/
Swiss Foundation for Breastfeeding Promotion
On the website, you find a Brochure "Allaiter" in 12 languages for mothers and families.
Lactation consultants (IBCLC – DIU – CAS)
Three consultations are paid by basic health insurance in Switzerland.
Geneva : 022 752 30 09 et https://sites.google.com/site/consultanteenallaitement/
Romandie (French speaking part of Switzerland) : CLIF https://allaiterenromandie.ch/
Association of Swiss Lactation Consultants www.allaitement.ch
Midwives
Associations and cabinets
Mother support, birthing preparation, breastfeeding: please check directly the offer in Geneva
Arcade sages-femmes
L'Arcade sages-femmes propose les activités suivantes :
Hotline 7 / 7. Phone 022 329 05 55
Home consultations (check your insurance for reimbursement)
"Get prepared for breastfeeding" (2 times / month, in French) on Tuesday, 4.30 to 6.30 pm, free.
"Breastfeeding encounters" (2 times / month, in French) on Thursday, 2.30 to 4.00 pm, free. Share your experience about breastfeeding and ask questions, get counseling from an experiences midwive.
Details on the website: http://www.arcade-sages-femmes.ch/
Gynaecologist-Obstetrician Practice, specialised in breastfeeding
Cabinet Dre Tatiana Giraud, Route des Acacias 54bis, 1227 Carouge – GE
Phone 022 309 33 06
Cabinet Dre Ana Godinho-Lourenço, Rue Plantamour 19, 1201 Genève
Phone 022 738 88 00
Hôpitaux Universitaires de Genève HUG (University Hospital of Geneva)
The Lactation Consultants assure consultations without without appointment from Monday to Friday except for Thursday (only with reservation in advance). If nesseray, a medical consulation will be provided.
The in-Hospital Lactation Consultants organize courses in birthing preparation and breastfeeding initiation.
Hôpital de La Tour
Private Maternity – Whether you give birth at La Tour Maternity Hospital or not, breastfeeding consultants welcome you to talk about your breastfeeding plans and to accompany you when you return home.
Address: Maternité de La Tour, 3rd floor of l'Hôpital de La Tour, Avenue Jacob-Daniel Maillard 3, 1217 Meyrin
Opening hours: Monday and Thursday upon reservation; Emergencies from 7.00 am to à 3.30 pm.
Cost: varies according to type and length consultation.
Contact by phone: 022 719 66 35.
Clinique Générale Beaulieu
Private Maternity – Our team of Lactation Consultants will accompany you whether you have a project to give birth in our Clinic or not. We offer outpatient consultations to answer your questions before the birth or throughout your breastfeeding.
Address: Maternity Section, 1st floor, Chemin de Beau-Soleil 20, 1206 Genève
Make an appointment: Monday through Friday 8 am to 5 pm by phone 022 839 57 07
Consultation schedule (or counseling by phone): Monday, Wednesday and Friday from 8am to 3.30pm by phone 022 839 56 17
Various Informations
Breastfeeding while working
For many women, going back to work goes hand in hand with weaning – but it doesn't have to be that way. In many cases, breastfeeding or expressing milk can be continued even while working. Since 2014, Swiss legislation has made breastfeeding or expressing milk at work a paid break. More information on breastfeeding and work
Extended breastfeeding
According to the WHO, exclusive breastfeeding for 6 months and continued breastfeeding for 2 years and beyond is recommended for the health of the child and the mother. In many culture what is called "extended breastfeeding" is simply a "normal" breastfeeding duration. In Switzerland, breastfeeding beyond 12 months can provoke comments. Do you have questions about breastfeeding a toddler, the value and composition of your milk, or the psychological benefits of breastfeeding for attachment? Are you looking for arguments to defend your breastfeeding? Here is some information:
Breastfeeding when your baby is in daycare? Yes, this is possible!
The Child Health Service (Service Santé de l'enfance et de la jeunesse SSEJ) in Geneva offers support to educational teams in order to encourage continued breastfeeding in early childhood institutions and day care centers. Please contact severine.emery-martin@etat.ge.ch for more information.
Depressed? Tired?
Contact the HUG "Mood disorders and perinatality" network for an appointment. Management of depression, bipolar disorder and anxiety disorder related to the perinatal period.
You can also check out the Australian POSSUM ressources "Growing Joy in Early life
When we have a baby, it's normal to find ourselves having to manage a lot of difficult thoughts and feelings. These videos offer you a set of simple strategies for taking care of your mental health in the perinatal period, from a new scientifically proven psychology known as Acceptance and Commitment Therapy, or ACT.
Mamamap
Mamamap is an application that lists the breastfeeding spaces available to the public in Geneva and elsewhere. A "Breastfeeding Space" is an accessible and discreet, non-smoking place where mothers are welcomed and can breastfeed their child confortably.
Important: A woman can breastfeeding in public everywhere in Switzerland!
Parent-children consultation
Depending on the region and structure, you will find people who are also trained in breastfeeding counseling. In Geneva IMAD, Portal Enfance et maternité is responsable for the parent-children consultations.